Manage your accounts - easily
Assembly's accounts is a feature rich accounts receivable system written specifically for schools and their unique accounting requirements. With the ability to record both single and bulk transactions, allow parents to pay before they are invoiced, separate fees and transactions, Assembly accounts has been written with you in mind. And, because we are aware that anyone can make mistakes, we have also provided some excellent account adjustment tools.
Information rich dashboard
Assembly's information rich dashboard shows both aged receivables and daily transactions. Schools are able to easily locate full details on an account or a single transaction directly from their home page. From the dashboard you can invoice, request donations, receipt and report with ease. Enjoy the benefit of having the accounts package linked to your school roll, reducing your database administration time.

Assembly is delighted to have a strong partnership with Xero, New Zealand's leading online accounting software solution.

We understand that schools don't always work with a single batch. There might be batches for automatic payments, other batches for daily entries and still another for camp fees. Assembly accounts allows you to have multiple batches open at the same time and close these off whenever you like, during the day, at the end of the day, week, fortnight, month - whatever works best for you.
General Ledger setup mirrors your existing accounts
Assembly's general ledger setup is able to mirror your existing accounts system, keeping everything neatly together. With the ability to create general ledger codes and descriptions, category codes and descriptions as well as item codes and descriptions, there is ample room to set your system up exactly as you want it.

Crisp, clean interface that is easy to get around
Easily understood screens are vital when working through an accounts system. Assembly accounts has been written with a beautifully crisp interface that is easy to get around and has all your accounts information at your fingertips. With the ability to single invoice or bulk invoice as well as single receipt or bulk receipt, it is very simple to manage the varied yet similar accounts that occur in the school environment.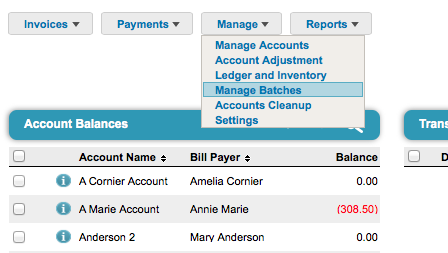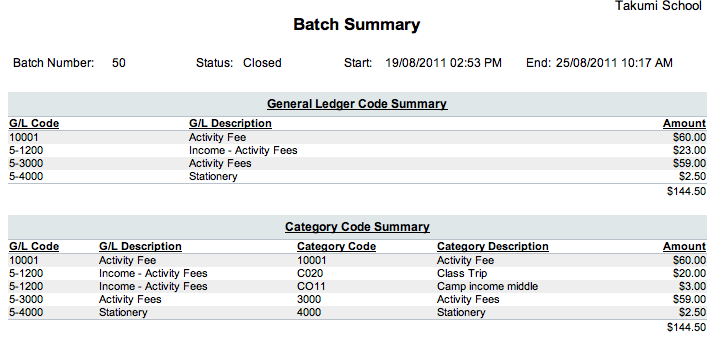 The reporting system within Assembly accounts allows schools to print out a variety of reports including statements, transaction reports, summary reports, batch reports and so much more. Our report design team are on hand to create additional reports as needed.
Quick access to all customer and student information
The accounts system has full details on customer and linked student information, allowing the user to see both an overview of the accounts as well as being able to drill down to see the finer details. With links back to administration, the user has immediate access to everything related to a student.